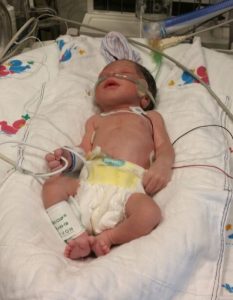 This is my great-niece that I refer to in the article. Her name is Genevieve but I call her Zawadi, KiSwahili for gift. Watching her fight for her life, to be a part of this universe became a metaphor for what's happening right now in the Black community: We are in the fight of our lives. Baby G aka Zawadi fought to survive and now she's on her way to claiming her space, her voice in a world that wants to pre-determine her destiny as a Black warrior-child. It ain't gonna happen. Not. on. my. watch.
Published in St. Louis American, June 23, 2017
After my fellowship in Madison, Wisconsin, I headed to Kansas City to check on family including the premature arrival of my great-niece. I don't know why she was so anxious to come into this world. During my time there, there were seven deaths including that of a 3-year old child.
Then I came to St. Louis where violence took the lives of 11 people in a week – five homicides happened in a 24-hour period. In that count were the deaths of a seven-year-old and a 13-year old. The combined magnitude of the human carnage was enough to temporarily bring down my high spirits. Read more