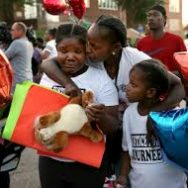 Published in St. Louis American on September 5, 2019
According to its definition, the Gun Violence Archive has documented 251 mass shootings in the U.S. since January. The El Paso and Dayton massacres brought that total to 253. GVA tracks mass shootings of incidents involving at least 4 people being shot. My reaction to the wails of grief and desperation is we know these shooters.
This was the point of a recent conversation with two local community activists, Martha Jane West and Doris Baltimore. Like other conversations in Black and Brown communities across the country, we are wondering what this latest trend of targeted people of color means for our safety.