No Choice is the Goal

The Naked Truth column was published in The Cap City Hues, September 9, 2019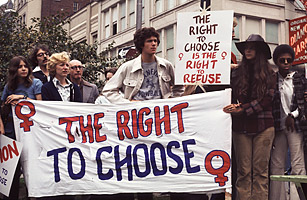 Conservative legislators have been chipping away at Roe v. Wade since the U.S. Supreme Court ruled on a woman's right to a safe abortion. That was 1976. Extremists have added their own brand of terrorism to the battleground issue from aggressive protests to the bombing of abortion clinics to the murder of doctors who perform the procedure. Most polls show that most Americans support the right to choose. Yet this law — the right to choose — is not being protected by our government.
Some days it seems like the right to safe and accessible abortions is a vanishing right, but it hasn't been because of a passive reproductive rights movement. Republican-led legislatures have been laser-focused on destroying this constitutional amendment.
According to the Guttmacher Institute, abortion clinics have dropped almost half in number since 1996 when there were 452 facilities. There are currently six states with one lone abortion clinic. These are Kentucky, Mississippi, Missouri, North Dakota, South Dakota and West Virginia. Wisconsin has two remaining clinics.
Planned Parenthood of the St. Louis Region and Southwest Missouri has been the leading provider, educator and protector of reproductive health care for over 85 years. The agency has fended off increased political attacks and restrictions over the last decade. St. Louis has the only remaining clinic still performing abortions in the state. When Missouri Gov. Parson recently signed the last sweeping abortion ban into law, he committed to make Missouri the "most pro-life state in America."
Abortions are just a slice of what Planned Parenthood does locally. It provides direct medical care and family planning services to more than 30,000 women, men and teens each year. While the state is cutting off access to abortion, maternal and reproductive health in the state is in crisis. Maternal mortality rates in Missouri are more than 50 percent higher than the national average, and a syphilis outbreak is sweeping the state.  It is unconscionable.
Missouri came damn closed to having NO abortion facility. Last month, the ACLU and attorneys of Planned Parenthood took the state of Missouri to court to stop an unprecedented number of abortion bans from taking effect in the state. If the bans were to go into effect, abortion would be outlawed at nearly every stage of pregnancy. Missouri is one of 12 states to ban abortion this year. State politicians, emboldened by the trump administration, have passed a total of 26 abortion bans nationwide in 2019 alone.
Recently, pro-choice supporters let out a collective sigh of relief when U.S. District Judge Howard blocked portions of the law banning abortions after eight weeks of pregnancy. This ruling came just a day before the draconian legislation was to go into effect. It was a frightening nail-biter.
Legal abortions are not out of the scope of anti-choice, anti-women fanatics. In Wisconsin, you have a fighting chance because of a Democrat governor. In states like Missouri with a trifecta of Republican domination (House, Senate and Governor), our fight is far from over.
I keep wondering about the sanctity of law, about the value of majority opinion. You constantly hear the crap that "we are a nation of laws."  In this democracy, a minority is determining the future of a landmark case designed to protect women for generations.
Here in Missouri, we aren't going down without a fight. I'm hoping that fighting spirit and organized action leads us to a permanent victory.