Obstruction of justice in the Lamar Johnson case

Published in St. Louis American, December 5, 2019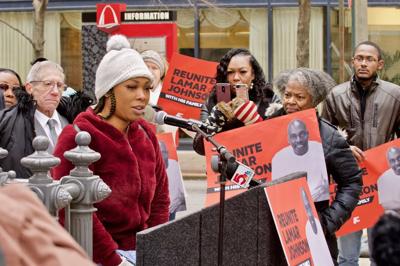 For months now, Circuit Attorney Kimberly Gardner has suffered defensive wounds from those attempting to prevent her from carrying out a justice agenda. While voters didn't elect Gardner to spend needless resources and time fighting against racist and sexist attacks, Gardner knew it would come with being the first African-American female prosecutor in St. Louis. The latest shameless act to discredit her office is to put an unwarranted barrier between an innocent man and his freedom.
The case of Lamar Johnson is one of many tragic stories in the ongoing saga of a corrupt judicial system. There is now an opportunity to correct that injustice, but power games are being played. I believe it's all a part of the ongoing efforts to beat down and character-assassinate Gardner – even if it means denying an innocent man his freedom.
In 1994, the St. Louis prosecutor's office convicted Johnson of murder based mainly on the false testimony of a so-called eyewitness. That eyewitness, pressured by the state, has since recanted. To get a conviction, police and prosecutors worked together to make up evidence. Johnson has been caged as an innocent man for 25 years.
When Gardner came in as prosecutor in 2017, she inherited a department with an historical record of corruption and racist practices, both internal to the department and in its court practices. I have written much about rogue prosecutor Nels Moss who for decades ran amuck with his prosecutorial crimes that either sent innocent people to prison or sent guilty people away from excessive amounts of time. Several of his cases were overturned.
There are untold scores of people languishing in U.S. prisons because of the actions of overzealous prosecutors or unjust criminal laws and policies. Nonprofit organizations like The Innocence Project and Centurion Ministries emerged to address the wave of wrongful convictions that skyrocketed during the crack-cocaine epidemic of the 1980s and 1990s.
This stained legacy is why prosecutors like Gardner and St. Louis County Prosecutor Wesley Bell made it a priority to set up special units to review wrongful convictions. In the city, it's the Conviction Integrity Unit (CIU). In the county, it's the Conviction and Incident Review Unit (CIRU).
I wish I could tell you that Johnson's plight is an anomaly, but I've worked on wrongful convictions for years. There are many truly innocent people caught up in the mass incarceration web. Because of the costs and the refusal of the criminal system to correct itself, sadly many of these folks will never see the light of day.
Darryl Burton was exonerated in 2008 for murder after doing 24 years in Missouri hellholes. He recently reminded me that his quest for freedom came at a cost of $300,000 for Centurion Ministries who took up his cause. The cost for his lost years and the impact on his family is incalculable.
The future of Lamar Johnson can and should be expeditiously decided. Evidence of his innocence is overwhelming. As one of the cases reviewed by Gardner's CIU, an extensive report was created that justified a motion for a new trial. Her review uncovered several troubling issues, like secret payments totaling over $4,000.
The actual killers came forward in 1996 and 2002 to confess their involvement and in sworn affidavits said that Johnson was not involved. Even with this, Johnson lost appeals in state and federal courts over the years. Attempts to access additional records to help his case was blocked by the St. Louis Metropolitan Police Department and the Circuit Attorney's Office.
The lead prosecutor on the Johnson case was Dwight Warren, who got the boot after Gardner took office. Before he was a prosecutor, Warren headed the St. Louis police's homicide unit. A few people have the audacity to criticize Gardner's exclusion list of cops who have established issues with the truth and law. They are the likes of a Dwight Warren.
Instead of moving with warp speed, the Johnson case has been stalled. In response to the Gardner's righteous motion for a new trial, a circuit judge ruled that the motion was too late. The deadline for such a motion was 15 days after the guilty verdict. Yes, Circuit Judge Elizabeth Hogan actually put that foolishness into the universe.
We cannot let Lamar Johnson's pursuit of justice falter. On Human Rights Day (December 10), a press conference will be held at Missouri Attorney General Eric Schmitt's St. Louis office to stand with Johnson, his family and his supporters – including Gardner's office.
Using a legal technicality in this case is an obstruction of justice. Somebodies must be held accountable.