Published in The Capital City Hues on February 24, 2020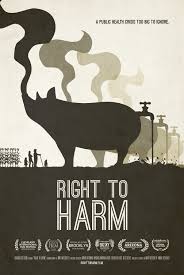 "If you don't like it—move!"
That's the historic response that those of African descent have heard whenever we confront issues of injustice or inequity by racist systems of oppressions. Surprisingly, it is the most common response hurled at small family farmers and residents who oppose CAFOs.
I learned that as part of a recent post-screening discussion on the documentary "Free to Harm." The documentary exposes the community and environmental impacts of concentrated animal feeding operations (CAFOs). An award-winning documentary husband and wife team, Matt Wechsler and Annie Spiecher, focused on the decades of agricultural deregulation and devastating laws favoring massive livestock production.
By the time the film ended, I chucked my prepared remarks. What I just experienced called for a different kind of response. Even though I'm familiar with CAFOs, I was less familiar with the seemingly futile efforts of communities against these Goliath, bloodsuckers.