This is the sixth article of a 7-part series that will focus on the issues in our radical movements that I think need our immediate and ongoing attention. I am using the ancient eastern concept of chakras for the body as a parallel to our movement's energy wheel. Healers believe sickness occurs when the body's chakras are blocked or out of alignment. Likewise, the U.S. Left and our social justice movements need our collective introspection, analysis and adjustments that lead to unblocking our energy/chi points. A weakened Left, and especially the Black Left, have been unable to provide this critical guidance over the last twenty years. I do not have the space to go too deep into my thinking although I have been pondering and talking about this very subject for a few years now. I am looking to stimulate a higher level of principled discussion about how to energize and organize the social forces coming into play at this pivotal juncture in history and how we can rebuild a formidable radical movement in this country.
Read all the articles at BlackCommentator.com
"We are airing our shame and failures because we want you, our movement sisters and brothers, to tuck lessons from this trauma into your sewing kits and toolboxes to create sturdier organizations in your communities."
-Sharing Sorrow: Women of Color Resource Center's Downfall,  Community Taskforce Findings, March 2011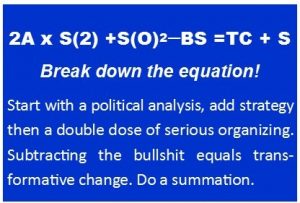 There are several terms used to critique if we are effective in what we are building and how we are doing it. Evaluation, assessment, review. I'm most accustomed with the word summation, as in creating a culture of summation in an organization. Summations are important because they validate whether our political analysis and strategy were realistic. Ultimately, it should help us improve our internal functioning and organizing. Without regular, thorough and collective assessments, this chakra gets clogged. When this happens, our political analysis becomes dull and our development is stagnated.
Summing up our practice or a campaign should be a routine part of organizational planning. When we sum up a program or campaign, the starting point is if we achieved the stated goals and objectives. These are based upon our analysis of conditions and capacity and how the program/campaign fitted in with our overall strategy. A summation can vary in depth from a cursory assessment to looking at all the elements of the campaign including the roles of individuals. Read more