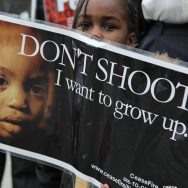 Published by the St. Louis American, October 17, 2019
The carnage of black bodies this summer, especially children, took a toll of all of us who care about humanity and who tirelessly work for racial justice. What compounded this bloody summer's negative impact is the way some chose to respond to the crisis.
The Coalition Against Police Crimes and Repression (CAPCR) led the grassroots efforts to bring a violence-prevention program to the attention of a city often referred to the Murder Capital. Cure Violence(CV) is a health-centered, evidenced-based program producing dramatic reductions in high-violence cities.
What's so disgusting to me is to find out that Cure Violence was asked to come to town about four years ago. What happened? Absolutely nothing. Had the city taken its violence problem seriously, it would have embraced CV then and Bloody Summer 2019 might have been averted. Read more