The Way I See It
Posted on December 24, 2014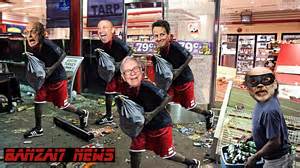 One of the elements of the Ferguson uprisings which has received lots of attention has been the issue of looting. From where I sit, the most vocal critics of the looting and arson have been right-wing conservatives, white mainstream media and middle-class black folks. For many, this display of unbridled and righteous outrage is new and unsettling.
Ferguson is not my first uprising. I'm also connected to community organizers in other cities where rebellions have taken place over the decades – Newark, Detroit, Miami, Los Angeles, etc.; we've shared our experiences on looting and arson. I'm going to share the accumulated insights on the topic.
White, conservative media have a field day with the images of looting. It fits into their ongoing narrative that black people are subhuman criminals and are undeserving of full citizenship in this society. Read more