About Jamala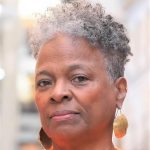 Jamala Rogers  spent her childhood growing up in a working class neighborhood with her four siblings in Kansas City,  MO. She came of political and cultural age during the tumultuous 60's and became active in the black student movement.  She's been organizing and raising hell ever since.
Jamala currently resides in St. Louis, MO where she has devoted all of her adult life to creating a child-centered, family-oriented community–one that embraces, celebrates and protects human rights for all citizens regardless of race, ethnicity, class, gender, sexual orientation or religion. Because of the persistent barriers to this goal, it has naturally led her to being a leader in the struggle for justice, equality and peace.
Jamala has held and currently holds leadership and membership in several organizations that share her vision for a more just and peaceful world. She is committed to a radical transformation of  society where all peoples, especially children, can reach their full potential and prosper.
Jamala is also deeply involved in the development of women and increasing their full participation in society. She works tirelessly on issues such as health, violence and reproductive rights.
Jamala has challenged the criminal industrial complex for decades focusing on police violence, prison reform, wrongful convictions and the death penalty. She is associated with the exonerations of several Missouri men and women including Ellen Reasonover, Joseph Amrine and Darryl Burton.
Jamala has done presentations on classism, racism, sexism and heterosexism while promoting alliance-building across issues and social movements.
Jamala is a featured columnist for the award-winning St. Louis American newspaper, St. Louis' largest black weekly. She is also a featured columnists for BlackCommentator.com and Capital City Hues (Madison, WI). She has authored many articles for both local and national publications on issues that she is passionately involved in.
Jamala has received numerous awards and citations for her commitment to racial justice and gender equity. Jamala was an Alston-Bannerman fellow and is the 2017 Activist-in-Resident at the University of Wisconsin-Madison.
Jamala is the author of The Best of the Way I See It, a compilation of her political writings over a 20-year period. She is also the author Ferguson is America: Roots of Rebellion.