It's Time for a Change

Published in the St. Louis American on April 1, 2021
It's time for a change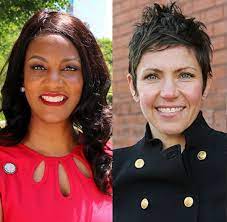 The City of St. Louis will have a big decision on April 6. Voters will not just be electing a new mayor, we'll also be hitting the reset button for a new direction for a city that's been stumbling around in the dark for far too long.
The next mayor will inherit a violent, incorrigibly racist place where, if the current population loss continues, it will be a big town instead of a city. Where our funky laundry continually flaps in national media markets, obscuring the aspirations of most of the decent folks who live here.
City Treasurer Tishaura Jones and Alderwoman Cara Spencer have both run campaigns with progressive platforms. Woke voters are looking beyond the promises and looking at other issues. In Spencer's case, Black voters have inquiring minds about two people. 
The only African American alderperson who has endorsed Spencer is Jeffrey Boyd. Boyd has received a sistah-girl whooping every time he's gone up against Tishaura Jones in citywide elections. Each time, he crawls out of the ring more bitter and determined to bring her down. Yet he can't even win his own 22nd ward in those elections.
Voters in Boyd's ward don't believe he should get a promotion given his poor representation for his constituents. Is that the same message the 20th Ward voters sent to Cara Spencer? She failed to win her ward in the March primary. When one can't win their own ward, that's a resounding message for voters beyond that ward to pay attention.
Then there's former mayor Vince Schoemehl's support for Spencer. Soon after his election, he earned the nickname "Shameless" in the Black community. In 1979, one of our crown jewels was closed and candidate Schoemehl promised to re-open Homer G. Phillips Hospital. The Black vote swept him into office and he promptly reneged on his campaign promise. His relationship with the Black community appropriately went downhill from there.
His contempt for Black folks didn't stop there. It was under Schoemehl's regime as head of Grand Arts Center that the St. Louis Black Repertory was uprooted from its home after 20 years at Grandel Square Theater. The Black Rep, a premiere Black cultural institution, was erased from the so-called arts district. So much for diversity.
The point being made is that these two particular men don't project anything positive or progressive. They reflect a neocolonial mindset that forward thinking people are striving to break from. We deserve political representation that is committed to building a better St. Louis for all, free of corruption and racial inequalities.
Tishaura Jones' campaign is not about symbolism. She fundamentally understands the marginalization of Black communities and the unbridled disrespect for Black lives in the region. She understands how structural racism chokes economic growth and stagnates social development. Many voters have faith that she is best person to turn the situation around. St. Louis will forever have a neon racial divide and resident flight as long as the current status quo is deemed acceptable.
It's time for change. A change on April 6. A change beyond Election Day.