If you missed the documentary in your hometown, PBS is giving you another chance to check out this riveting documentary. In St. Louis, it will air Tuesday, April 16 at 8 pm on KETC Channel 9.
The Central Park 5: Where were we then and where are we now?
Published by Blackcommentary.com on January 17, 013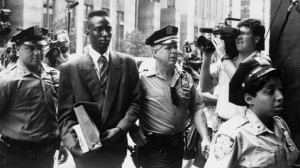 As someone who has done work for years around the prison industrial complex and particularly with wrongful convictions, I was elated when I heard a documentary about "The Central Park Five" was in the works. When the news came that "The Central Park 5" was in selected movie theaters in my city, I passed the announcement on to my Facebook friends, urging them to check it out in their respective hometowns. A friend who has a movie review website heard that I was going and asked that I do a movie review. No problemo.
I ended up going to the theater by myself but expected to see many folks that I knew from the social justice scene. I sat in the back of the theater so that I wouldn't bother people with my note-taking.
As the theater started to darken for previews of upcoming movies, I noticed that no one else had entered the theater. What the hell was going on? I got up from my seat and went to the hallway but saw no one. I was the only person in the 300+ seating theater. I repeat: I was the only person in the theater to view "The Central Park 5." Before my anger could rise, the documentary was on and I was pulled into the story and quickly became transfixed on the screen.  Continue reading 
Central Park Five for Nickle Mustard Reviews

Venerable filmmaker Ken Burns joined forces with family to unbury and re-create the infamous case of the Central Park Jogger. The documentary is based upon the book by Burns' daughter Sarah entitled, "The Central Park Five: A Chronicle of a City Wilding." Her husband, David McMahon, also collaborated on the riveting film—a mind-blowing montage of newspaper headlines, actual news footage, courtroom sketches and interviews.
In 1989, four black teens and one Latino made forced confessions that would change their lives  and the lives of their families forever. They were Kevin Richardson (14 years old); Antron McCray (15 years old); Yusef Salaam (15 years old); Kharey Wise (16 years old); and Raymond Santana (15 years old). Although all of them didn't know one another, their lives quickly became tangled as the Central Park Five (CP5).
The juveniles were accused, tried, convicted and sentenced in the brutal assault and rape of Trisha Meili, a young, white, Ivy League investment broker on Wall Street. Most of the media respectfully and intentionally concealed her identity for years until she officially confirmed it in 2003 when she published her memoirs about the case; the media blasted the identity of all the boys from Day One.
I have worked on many local and national cases of wrongful convictions of individuals and groups. Even with that experience, it was painful to watch as Burns stitched together the elements of the story, particularly seeing a scrawny, clueless Kharey Wise being manipulated by police and knowing his overall situation. Wise was sent to the notorious RikersIsland prison where he survived in protective custody for most of his incarceration.   Read more